2017's Best Inflatable Standup Paddle under $1000
2017's Best Inflatable Standup Paddle under $1000
There are a lot of players on the mid range inflatable paddle board market ($500-$1000). This price point has a wide range of boards, from general all purpose boards, to use specific boards like yoga & expedition boards. All most all of these inflatable standup paddle boards come as full kits with packs, hand pumps, and of course the board. Just add some sunscreen, a PDF, and you are ready to hit the water for some iSUP fun.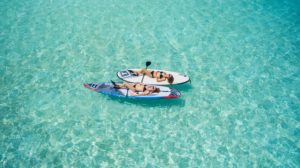 We've looked at the top boards on the market, considered price point, performance and publicly available product reviews to come up with the following list of the top paddle boards under $1000 for you to consider.  Take a glance at our recommended boards & the overall top rated board we found.   So if you are looking for the best inflatable paddle board under a grand, you've come to the right place.
The Best Mid Range Inflatable Paddle Boards
Best Value Under $1000 WAKOODA GT150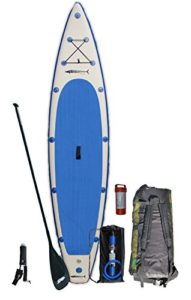 For the best value, the Wakooda GT150 6" board was chosen as 2017's best inflatable paddle board. Included is the board, 3-piece carbon fiber adjustable SUP paddle, BRAVO HD inflation/deflation pump, ankle leash, back pack with shoulder and waist straps and a patch kit. It is made from 1000 denier drop stitch material and has a non-skid surface. This surface makes it easy to sit, stand and kneel on the board without falling. It is also capable of holding 2 people, or up to 350 pounds. There is an attachable seat that connects to D-rings on the front, center or even as a double seat. The ankle leash makes it easy to keep your board on you at all times, in case of accidental falling. The convenience of the backpack also contributes to easier traveling, the straps making it secure on your person as you take it on your various adventures. This board was given all five star reviews on Amazon, making it truly competitive in the inflatable paddle board world. The pump will inflate the board in under 10 minutes and will pump all GT models. It is also noted as working well with two people, whereas many other boards have trouble carrying more than one person. The customer service also seems to be extraordinary for the quality of this product, as it comes with a 1 year warranty for manufacture defects. Their response time is also averaged within a hour time span for answering questions and resolving issues. Its maximum PSI for inflation is 20. This item has previously sold out of stock, only contributing to its appeal as it has a growing fan base. The board measures 12'6" long, 32" wide and 6" thick. It proves superior in length to many of the other boards offered. In conclusion, for the best board with the best value, customers recommend the Wakooda GT150 for your inflatable paddle board needs. This board was given great scores in speed, stability, maneuvering and tracking. It is even a good ride for choppy water. This board also comes with a comprehensive package, which is good for the beginner.
Top Rated inflatable under $1000 ISLE AIRTECH
Our top rated board was given to the ISLE Airtech board. The average price for these boards runs around $945.00, but check the current price. This board has received an almost 5 star rating on Amazon, with a total of 68 customer reviews. This board is made with military grade PVC, making it exceptionally sturdy and resistant. It is made to resist dings and damage. If there should be any damage to the product, it comes with a 1 year warranty on materials and a risk-free return within 30 days on Amazon. This board is 11' X 32" X 6". It weighs approximately 19.1 pounds. On top of receiving the board, you will also receive a paddle, carry backpack and a high pressure pump. If outside the US you can have the item shipped to a freight forwarding company, which should then be able to deliver your product, as Amazon does not ship this outside the US directly. However, as stated, Shipping anywhere in the US is free. It can hold a rider's weight up to about 275 pounds. The rudder attaches to a track on the paddle board with a thumb screw to hold it in place. It comes with 2 built in side fins and a detachable center fin. This board has even been mentioned as able to easily carry a rider who is over 6' tall. With room for adjustment. These inflatable boards are suggested for any member of the family, and are noted as being convenient to travel with. Though a bit more expensive than the Wakooda, the ISLE Airtech is rated the best board on the market. If you can fork out a few extra bucks, this is the board with the best recommendations. Whether it's a fun trip to the beach, or an intense work out, this board would make a solid investment. This board is rigid and stable, making it great for exploration. Its best performance is in flat-water adventures. There is bungee on the front and back which makes it possible to store your gear. This board is great for leisure use and will make the rider feel safe and secure.
Inflatable Paddle Board's Editors choice TOWER PADDLE BOARD iRACE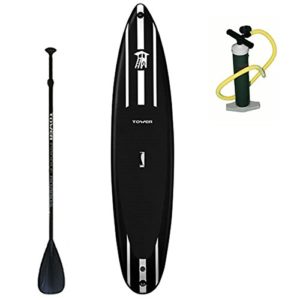 Though the most expensive of the boards, the Tower iRace was given the vote for Editor's choice. It is able to hold up to 400 pounds, carrying the most weight of the other two boards. It gives the feel of a hard board when fully inflated, which is up to 15 PSI, though is ready to ride at only 10 PSI. Along with the board, you will also receive a pump and a 3-piece adjustable fiberglass paddle. The board is made from a military grade PVC material with a drop-stitch construction. It also comes with a 2 year warranty, which covers everything other than normal wear and tear. It measures 12'6" X 30" X 6" when inflated and only 1 foot in diameter and 33" wide when it is deflated and rolled up. 82% of customers rated this board a five star on Amazon. Customers have reported using this board even as a beginner, and it working without a hitch. It inflates in just about 10 minutes, with only 3 minutes to deflate. It was also noted as being very easy to travel with, making it an ideal board for the adventurous. This board is geared more towards adults, as the length of the board is quite long. However, the folks that have ridden this board have sworn by it. The fin of the board is also detachable. It is capable of cutting through choppy water, and is also fast moving. It being a longer board makes it ideal for paddling longer distances, and the narrowness of the board makes it good for racing. The rigidness of the sup is stiff as a board, while still being comfortable on the feet. It has a carrying handle, front towing D-rings and a rear surf leash D-ring. The fin easily snaps into place and is 9.25".