2017 Best Inflatable Paddle Boards under $500
2017 Best Inflatable Paddle Boards under $500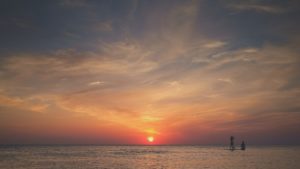 Here is our hand picked selection of the best inflatable standup paddle boards on sale for $500 and under. Ok Ok, not every one has $2000 to drop on a fancy NRS Paddle Board. Maybe you need to buy 4 for the family or maybe you're just broke like the rest us. So if you are looking for a quality entry level board, we've got just the list for you.
These paddle boards are cheap, but only in price. We've looked over publicly available information including user reviews, expert testimonials, and life time sales information to produce this list of the 2017 cheapest inflatable paddle boards for sale online.
2017 Best Cheap Inflatable Paddle Boards
Best Value iSup under $500 the Vilano Navigator 10′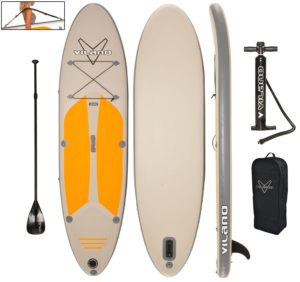 For the best value for your dollar we recommend the Vilano Navigator 10′ isup. This pumped up paddle board has gotten many great reviews, making it the pick for the best value. It has a 10″ length with a 6″ thickness. It comes with bungee and D rings, which is perfect for attaching your gear. Included you will receive the board, removable fin, aluminum paddle, pump, carrying bag, shoulder strap and repair kit. The pump has a gauge and will fill the board to be extremely firm. It is made from a PVC material, which makes it remarkably sturdy. Deflated, it measures about 1 foot by 36″ in diameter, making it a convenient haul. Customers have also given positive reviews for the diversity of it's users. It was noted for being easy to pack and unpack, while also being briskly inflated/deflated. It only takes about 5-8 minutes to inflate, and has a PSI of 18. This board is also capable of taking some rough handling, withstanding small dings and hits. It comes with a 1 year warranty, which covers workmanship and materials. This board is perfect for the recreational rider, great for beginners who are just looking for some fun on the weekend. The max weight it can hold is 250 pounds. There is also a diamond non-slip pad to prevent falling. There is a removable 8″ fin that helps the board through different water conditions, however, this board is perfect for paddling over longer distances quickly over flat water.
Recommended Board under $500 Aqua Marina Monster Bt-88884 Inflatable SUP
The Monster Bt-88884 Inflatable SUP board was picked by Inflatable-Paddle-Board.com Editors for being the best board for the price range. It's a big board at 12″ length with a 6″ thickness. The size makes it sturdy, and capable of carrying a large load. This board has a ton of all around appeal. It was built to be sturdy, as well as be quick and efficient in the water due to it's nose heads-up build. It can hold a weight of up to 265 pounds, making it a great choice for multiple family uses. It is made with high quality PVC and weighs in at only 23.4 pounds. Customers have given this board great ratings, mostly due to the quality and handle. 70% of Amazon reviews have given this board a five star rating. It features a honey comb brushed EVA deck with almost 2/3 of full deck EVA traction. The PSI is 15. This board's best ratings were in tracking, closely followed by maneuverability and then stability. There is a 1 year manufacturer's warranty, which leaves you worry free. The stainless steel D-ring on the tail is perfect for a safety leash. This product is easy to use and is revered for it's speed and stability. It also has 1 fin, located in the center and is 347 L in volume. It's highest ranking was in it's stability, followed by it's tracking and maneuverability. There is good glide with the Monster, and the extra volume is great for paddling with extra luggage.
Top Rated isup under $500 PEAK Inflatable Stand Up Paddle Board.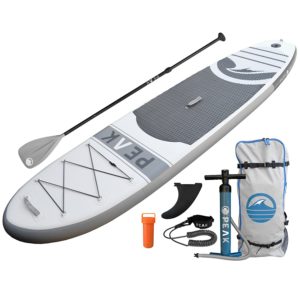 The PEAK is top rated for boards around $500.00. The measurements once inflated are 10'6" x 31″ x 6″. The weight is 23 pounds. Included with the board you will receive a paddle, carry backpack, coil leash and high pressure pump. It is constructed with military grade PVC which helps prevent damage. The durability was compared to that of the epoxy hard boards. This board has been given a 30 day guarantee on Amazon, meaning you can return it risk free within 30 days if you are unsatisfied with the product. The board comes with a 1 year warranty on materials, which leaves little room for worry. It supports up to 300 pounds, making it capable of holding various body types. It is noted for being perfect for all skill level, and features a rigid and stable shape. 85% of customers gave this board a five star rating on Amazon. The carrying case for the bag is durable and padded, not cheaply made. Even beginner's seem taken with this board, recommending it for all your paddle board needs. The width makes it accommodating for rider's and the ability to carry gear makes it a real winner with it's customers. Many also find it to be aesthetically pleasing, coming in colors such as aqua, blue, red and white. The fin is also removable. The PEAK does well across different water conditions, proving stable enough for beginning riders to ride with ease. This is a great choice for budget conscious people who are looking for a nice board.